CMI provides services to government facilities, office buildings, retail spaces, medical facilities, restaurants, childcare centers, churches, fitness centers, theaters, banks, stores, schools and various other types of facilities.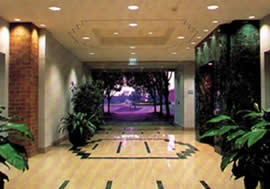 Our services include:
Office Cleaning
Carpet Cleaning
Day Porter Service
Stripping and Waxing
Construction Clean-up
Window Cleaning
Parking Lot Sweeping
We partner with our customers to tailor our services to meet their needs.
The cornerstone of our results oriented cleaning program centers around key performance areas. Significant emphasis is placed on these areas which include:
Restrooms
Conference rooms
Lobby areas
Reception areas
Kitchen areas
Restrooms
Trashed emptied
Clean floors-common areas, under toilets and urinals
Sinks cleaned-bright work polished
Toilet bowls and urinals cleaned and disinfected properly
Dispensers filled-soap, sanitary products
Conference Rooms
Wipe clean and polish tables, etc.
Vacuum thoroughly and align chairs
Lobby Area
Elevators - clean fingerprints from walls, tracks vacuumed, cleaned and polished
Entrance doors/vestibule area -clean glasswork, frames, ledges and corners wiped clean, floors swept/vacuumed
Floor/carpet work - swept, mopped, spray buffed, baseboards dusted/wiped clean
Reception Areas
Detail dust tables, chairs, etc
Sweep/vacuum floor
Wipe fingerprints from countertops, etc
Kitchen Areas
Trash emptied, liners changed and in properly
Trash cans wiped clean
Walls behind trash can wiped clean
Floors and tables cleaned, sinks polished
These areas are especially important because they represent the overall quality of cleaning in a building. Each of these key performance areas are cleaned thoroughly by a janitor and checked every night by the supervisory staff.